Click the links below for notes, photos and video from each day.
Book Full of Track Notes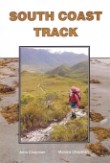 Yep.  Without question, the best book I found for the South Coast Track walk is John Chapman's "South Coast Track".
We've managed to get hold of a number of copies – you can buy direct from us, save a few $$$ and we'll send it straight out.
For just $19.95 you'll get what is considered the bible by walkers walking the track.
Detailed track notes, useful maps and much more.