Approximate Walking Time: 4-6 hours
This 12 km walk promised some nice walking in varied conditions.
From the campsite the track heads south-east above and alongside the New River Lagoon outlet……
….after saying goodbye to our new mates Phil and Ange.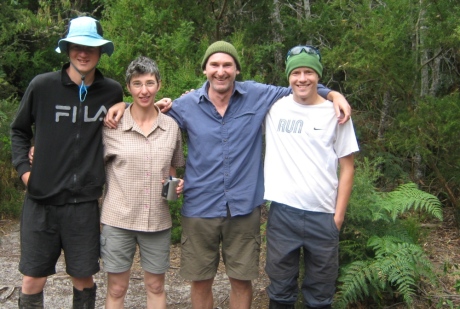 Light Forest Walk

It's a nice start to the walk with light forest most of the way, ending with a quick clamber down ladder steps onto the western side of Milford Creek.
After getting across the creek (low water levels when we crossed) you head up a steep set of steps into the forest of Weirah Hill.
Pretty flat walking gets you into the open plains of Rocky Plains.
Some terrific views to be had here as the whole area opens up.
As you head towards Surprise Bay there are plenty of climbs and descents into forest before you head down the steps onto the beach. no mozzies this day, so we didn't need this.
You then follow the sandy beach along to a rivulet after a rocky outcrop.
On the other side of this you head inland (up steps again) to an elevated campsite that has lovely views back over the beach.
Heading To Granite Beach
Although it's a lovely campsite (all major campsites have Pit Toilets), we decided to keep heading to Granite Beach – another 3 kms on.
It's a short, sharp climb through scrub and forest, before you plunge down again to come out at the start (western) end of Granite Beach.
Granite Beach started off sandy, but quickly become rocky as we walked along (1/2 the beach was rocky – apparently these rocks are often covered by sand).
At the end of the beach you'll find a rocky waterfall (the perfect natural shower).
Just before the waterfall is a steep, tricky rock climb up to the top of the waterfall.
Cross this little creek and head up the well marked track (you'll see the pole with the yellow marking in the video below) to the beautifully sheltered (and large) campsite.
View From The Creek At The Top
Difficulty Rating: Moderate
The weather had held for us and the track was in fairly good condition – combine that with a bit of beach walking and you have a moderate day.
Read on for: